Structure and Statistics
Currently there are approximately 1,205 Presbyterian congregations scattered through every part of Taiwan, and about 238,372 members (2009 data).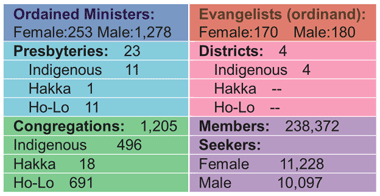 Administratively PCT is organized into twenty-three presbyteries and four districts. Each Presbytery sends commissioners (lay and ordained) to an annual meeting of the General Assembly which is the highest decision making court. In-between assemblies the GA Executive Committee is charged to make decisions. The office of Moderator is for a term of one year while the General Secretary, Associate General Secretaries, and Programme Secretaries are full time appointments (one term four years). The General Secretariat and executive staffs together with a strong support team carry out the daily administration and ministries of the General Assembly Office and Programme Committees.